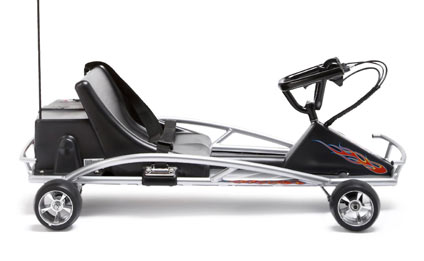 Times have indeed changed for kids and now they play with things us parents never had during our childhood. The ubiquitous bicycle has been replaced with the electric go cart that has become increasingly popular and, in fact, has gained racing status among kids across the U.S. K1 Speed in Santa Clara, California, for instance, offers outdoor as well as indoor go cart racing these days and it isn't limited to kids alone; go cart racing is a hit with adults, too.
Gone are the days when go carts consisted of discarded wood pieces, ancient bicycle wheels, and strollers on their way to the junkyard. Today's Razor Ground Force model for kids — eight years old and up – is a sleek-looking go cart with a variable speed of 12 MPH that makes it the perfect vehicle for running around solid ground and flat trails, and circling cul de sacs.
Product Specifications
Maximum speed of 12 MPH.
Four to six hours of battery charging time.
Capacity of up to 140 pounds user weight.
Comes with a set of two 12V lead acid sealed batteries.
45 minutes driving time per single charge.
Wheels are made from molded aluminum.
Front and rear tires are made of rubber, measure 4½ inches, and have metal axles.
Accelerator is hand controlled.
With hand brake on the left side and a throttle for control on the right side.
Dimensions are 41" (width) by 16" (height) by 29" (depth).
Sturdy build with frames made of durable steel that are low to the ground and equipped with durable surrounding tubes to contain the rider.
Motor is chain-driven.
Comes with a flag.
Assembly required.
Available in silver and cherry red colors.
Equipped with a combined strap and lap seat belt for safety.
Comes with a warranty of three months (90 days).
Battery is self-contained with an off and on switch and plug.
Plastic seat is wide and built solid.
Features
Kids who want the power of four wheels will be more excited with the Razor Ground Force than other go carts. Because of its high torque, great maneuvering is possible with its chain-driven motor that can deliver up to a speed of 12 MPH. You don't have to worry about safety, either, because it has a shoulder strapped seat belt that holds a child securely even while doing rugged driving or even stunts.
This particular Razor electric go kart model has a durable steel frame that makes it durable to withstand rugged twists and turns and can run continuously for 45 minutes after four to six hours of charging time. It does seem to go faster because of its low build that's close to the ground. And the handle's thumb trigger as well as its brakes will enable a child to vary the speed and control of the go cart easily.
Pros of the Razor Ground Force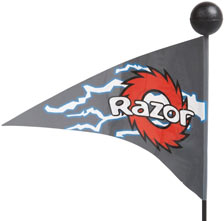 One feature of this particular Razor go kart model is its minimal assembly. It also comes with a set of tools for easier completion of putting it together. It moves so much faster than what you would expect from a kid's go cart. The sturdy construction, with its steel framework, provides adequate safety and protection against tipping and flipping when a child goes careening.
Because this Razor go cart is battery-powered, it's less intrusive when it comes to noise pollution, a significant consideration in gated communities, play areas, and neighborhood parks. The radius is wide turning and capable of pretty good spins up to 360 degrees. And if you want to take it on a trip or vacation, it fits snugly in a medium-sized SUV's back of without any hitches.
It can support up to 140 pounds of a child's weight and with the combination of a seat belt that secures the shoulders and the lap, the go cart can hold a child in place to prevent spills and getting knocked out of the go cart. Its upgrade on the rear axle allows a child easy maneuverability and control of the go cart. And the hand accelerator and brake are easily manageable even for a six-year-old child.

Cons of the Razor Ground Force
The Razor Ground Force, like several of its siblings, has several considerations which you may want to think about before purchasing one. For one thing, go carts operate best on asphalt or solid pavements, and Razor go karts are no exception. This particular Razor model is not suitable for use on surfaces like grass.
This Razor model is built low and close to the ground, and while this can prove advantageous to a kid who likes to ride fast, caution should be exercised when a child drives it in areas which don't have a sizeable amount of neighborhood pavement. This same low profile, in fact, makes it quite difficult for cars and other vehicles to see on any street.
One other con is that this Razor model does not have a reverse mechanism feature, meaning, if the kid gets stuck while driving (especially on dead end streets), the parent or whoever is watching the child will have to be moved. This should be noted if the child drives it to areas which have some potholes or a lot of rocks.
Conclusion
Read the customer reviews submitted to Amazon and you will get an idea of whether or not you should buy the Razor Ground Force Electric Go Kart for your child's present. More than half of the 236 customer reviews gave this Razor model a five star-rating, meaning, the pros far outweigh the cons in terms of durability and safety.
Yes, get your child the Razor Ground Force because as long as a child is properly supervised by an adult while driving this go cart, there shouldn't be a reason why he or she can't have fun with it safely. And to get a better deal, buy one before the holiday season when electric go karts for sale typically have lower prices.