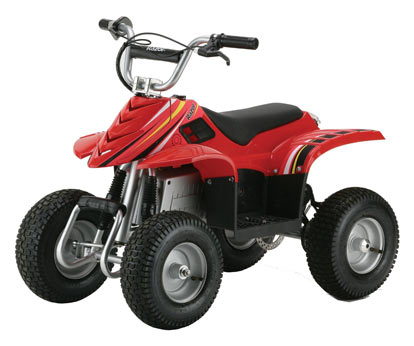 There are only a few things in this world that will make your kids smile from ear to ear. If you are planning to buy your child an unforgettable Christmas or birthday present, the battery powered Razor electric dirt quad might just be the one that you are looking for. Since 2000, Razor has been around the block, leading the way in defining new categories of action sports and rides.
Product Specifications
Recommended for age 8 and older
Can hold maximum weight of 120 lbs
Plastic fairings of shatter resistance mounted on tube steel frame
Droop travel rear suspension for superior terrain tracing
Twist grip hand throttle handlebars that can be adjusted
Padded seat, easy to use hand operated rear brakes, and front brush guard designed to keep the rider safe and comfortable
Huge rubber knobby tires as opposed to the plastic ones that can usually be seen in other ATVs
Space saving vertical storage option
Weather Resistant
Splash Proof
Dimensions of the ATV: 43″ x 24″ x 31.5″
ATV weight: 89 lbs.

Features
The Razor electric quad is a powerful all terrain vehicle that will definitely make your kids forget about their gaming consoles and smartphones. Engineers from the Razor company have come up with an ATV design that integrates innovative frame geometry with high-torque drive and on-board torque reducer to provide your adventurous youngsters the thrill of riding off-road.
Furthermore, you do not have to worry about your children going back home disappointed because the battery is already drained. When fully charged, the 24V battery of the Razor quad offers up to 60 minutes of off-road excitement.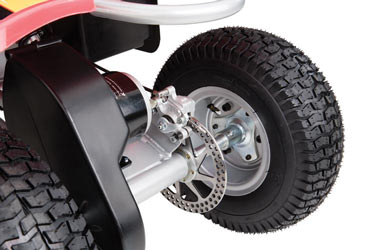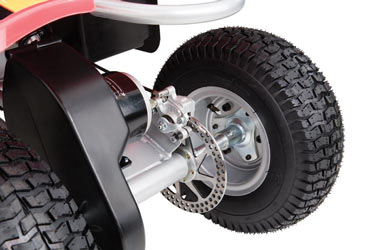 If your kids like to get up early to have fun, the ATV will not bother the neighbors because of its quiet yet powerful variable speed, chain-driven motor. If they choose to ride on bumpy roads, the droop travel rear suspension makes it possible for your children to experience a smooth ride. If it rains and it pours, you can sit back and relax knowing that your kids are riding a quad equipped with shatter resistant fairings and weather resistant powder coated tubular steel frame.
While other quads for kids available in the market today put on plastic wheels, the large rubber knobby tires equipped on the Razor electric quad offer excellent control and superior terrain adherence that will give your kids the pleasure of mastering multiple terrains. The hard plastic used by competing brands as the primary material for their quads' wheels has inferior grip with the tendency to easily spin-out. The rubber tires of Razor's quad, however, provides intense digging power, so that your young ones can take full pleasure in riding off-road and climbing hills without a hitch.
Many kids quads for sale rely on fossil fuel to power their engine, contributing to the massive amount of greenhouse gases that are already in the Earth's atmosphere. The Razor quad for kids is a great selection because the ATV is environment friendly. The quad is a good investment as well. You can let your kids experience immense outdoor fun so you won't have to keep them entertained by bringing them to an expensive place.
With these top of the line features, it is only right that the dirt quad by Razor has received prestigious decorations. Most notable of which are the Sports Illustrated for Kids award and the Family Choice award.

Pros of Razor Dirt Quad
For such a powerful machine to be handed over to your kids, your primary concern as a parent is safety. The quad's design touts unit safety and extreme durability. As a matter of fact, your kids can drive the vehicle on any terrain except underwater. The experience and the thrill of the ride is enhanced by the ATV's authentic frame geometry, superior suspension, and gearing ratio.
There's no reason to stop your kids from zipping through dirt track because the quad, with its powder coated and welded steel frame, is designed for that kind of action. The four 13 inches rubber tires with integrated precision ball fittings facilitates maximum motor power transfer. Even with all these capabilities, the vehicle does not cause any harm to the environment.
Although the steering bar is linear, your kid can easily make sharp turns with the quad. The vehicle's maneuverability is extended to terrains covered with grass or gravel. In addition, the seat is sufficiently cushioned and is protected by mud flaps so your children remain comfortable as they enjoy a rough ride. Best of all, the parts used in manufacturing the vehicle are of high quality and are highly serviceable.
Cons of Razor Dirt Quad
Many kids quads have a reverse option so it is disappointing that Razor failed to integrate this feature to their ATV. While your kids may enjoy the ride generally, they might find it annoying to put their foot down and use their leg muscles to go back a few feet.
The quad is not suitable to ride when the sun goes down because it has no headlights and tail lights. Moreover, the dirt quad does not have an engine braking feature. Before riding the vehicle, kids should be fully aware that the quad comes to a gradual halt as opposed to a shuddering stop.
Conclusion
All in all, the features of Razor's dirt quad put the vehicle on a league of its own. Of course, the lack of reverse option and lights make the quad less than perfect but apart from that, it is an excellent present for your growing 8 year old.
Razor's electric four-wheeled electric off-road vehicle is available at Amazon. The vehicle is quiet and powerful, extremely durable, safe, and eco-friendly. For that amount, you are definitely getting value for your money.