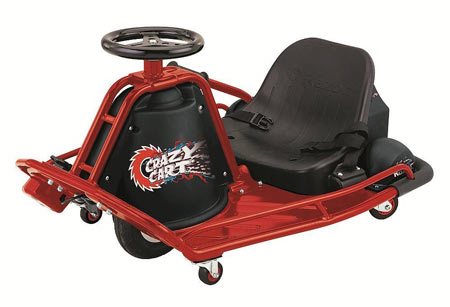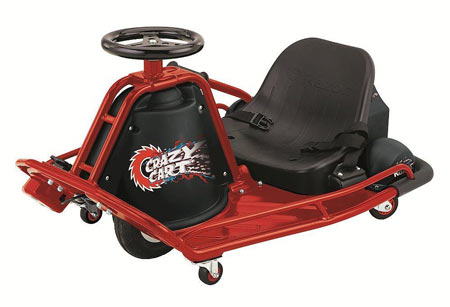 Picking the right toy is one of the most enduring dilemmas faced by parents and grandparents, by uncles and aunts, and by godfathers and godmothers. Kids love toys, but nowadays there's too much emphasis on gaming consoles and handheld video games. As a gift-giver, your responsibility is to give them something fun that can get them outdoors. But it must not be dangerous for the kids.
For the most adventurous kids (and that generally means boys, political correctness be damned), the best toys are the ones that let the kids act like adults. Toy guns nowadays are not exactly politically correct either, and that leaves play cars and bikes.
And that's where the Razor Crazy Cart comes in. Of all the toys you can buy for a kid, this one can really put a smile on your kid's face.
What Is the Razor Crazy Cart?
It's like a regular go kart, but it's made for kids. The manual says that it's made for 9-year old children with a maximum weight of 140 pounds, but of course that's just a guideline. Some parents let their younger kids play with the Crazy Kart, and they're just fine.
But what makes the Crazy Cart by Razor different from a regular go kart is that it's made to drift. The special drift system enables the driver to change the angle of the rear caster. This can allow drifting in various directions: forward, backward, sideways, and diagonally.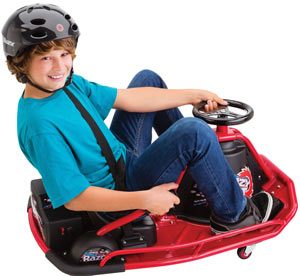 The steering also provides a 360-degree steering ability to get you out of tight turns. You can control the variable speed by pressing the foot pedal, and you can reach up to 12 miles per hour. It features pneumatic front tire and anti-tip front caster wheels.
You get two 12V sealed lead acid rechargeable batteries, which offer 40 minutes of continuous use. But you will have to charge it first, and that will take 12 hours initially. Make sure you don't charge it for more than 24 hours. The battery is good for about 250 charge cycles.
There's a strap for your shoulder or lap, and there's also a flag included for extra visibility. All in all, it's a whole lot of fun in a package that's 37 inches long, 24 inches wide, and 19 inches high. But you'll have to do some assembling beforehand.
Safety Recommendations
There's a pre-ride checklist that you need to check out first, and it's full of common-sense suggestions:
You'll need to make sure that all fasteners are secure first.
There shouldn't be any rattling sound at all when you shake the Razor Crazy Cart.
Always check for broken connections or cracks in the frames.
You should (or rather, your kid should, but you know what we mean), practice drift riding first. Make sure that your practice area is clear from any sort of parking blocks and remember not to hit the wheels on any hard surface.
The Crazy Kart is actually safe, and even when your kids look like they're toppling they're actually not. If you want to feel better, you can insist that your kid wears a helmet every time they take a ride. Other recommended safety clothes include elbow pads and knee pads, a long sleeved shirt and long pants, a pair of gloves and athletic shoes.
It's that awareness of safety that's a good foundation for the future.
You'll also want to remember how the steering wheel works. There's an arrow on the steering wheel, and that tells you the direction of where the Crazy Kart is going to travel, regardless of how the Razor Crazy Cart is actually oriented.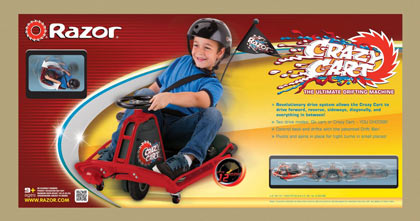 Pros
First of all (and this is probably the most important thing for kids), it's a truly addictive and fun toy. It's not hard to believe the various accounts describing just how much fun their kids are having riding it on their driveway. It has the power to get the attention of any kid for the entire summer. You won't have to go far looking for a Razor Crazy Cart review that offers an enthusiastic recommendation for it.
Funnily enough, as a parent you don't really have to worry about the assembly. It's already 99% pre-assembled. It only takes another 5 minutes to finish everything up.
To avoid any kiddie drama, you may want to open the box out of sight of your kids, so that they don't bug you about riding it right away. You know how kids are, right? They want their fun now, and they're not too big on delayed gratification.
It's also simple to stop the Razor Crazy Cart, even though there's no brake pedal. You just need to get your foot of the accelerator, and then turn the Crazy Kart to either side. A 90 degree turn ought to do it.
So what do we have here? What we have here is a toy that offers a lot of "grownup" fun for kids. It's easy to assemble, easy to operate, and easy to maintain. It's easy fun.
And it's safe. Adults obviously have to think about this sort of thing, and Razor has thought of it too.
Cons
So is the Razor Crazy Cart perfect? You'd think so, judging from the tone of the glowing reviews written by quite a few customers. And for the most part, it's great, however there have been a few complaints of the Razor Crazy Kart not working after a while. Some owners complained that things break quite easily, so you may need to contact Razor's customer support if you run into problems. Not everyone has this problem, but there are enough of them that we felt it worth mentioning.
Your best bet is to make sure you don't make it easy for the parts to break. Clear the driving area of all obstacles, and sidewalks or swimming pools should be avoided. A nice wide road where there aren't any cars is always a good place to start, but you may want the road to be smooth so drifting is safer. To be on the safe side, make sure to get the full warranty protection.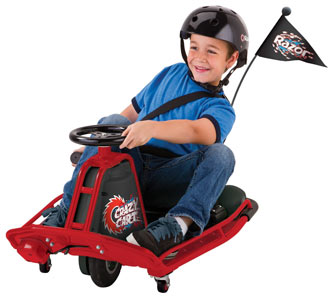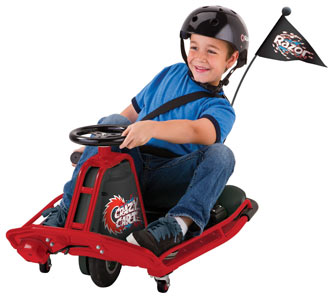 You need to have your kids take care when they're using the Crazy Kart. The owner's manual contains two full pages full of warnings and instructions about acceptable riding practices and conditions.
As the parent, it'll be your responsibility to make sure that your child is big enough (but not too big) for the Crazy Cart by Razor. They have to know all about safety and about the right speed. And teach them about the brakes!
Also, you need to know beforehand if your kid has problems with motion sickness. The Crazy Cart from Razor can be driven in a straight line, but its ultimate purpose is to drift and go into crazy turns and angles. So make sure your kid doesn't have a problem with that sort of thing before you buy.
Conclusion
Basically, to sum up, the Crazy Cart from Razor really is that fun to play with, and some adults even bemoan the fact that they're too big for it. However, be safe, and be careful. It's not too early to teach your kids about safe driving habits. It's good practice for the future.
So should you buy the Crazy Cart from Razor? If you do, then there's a very good chance that you'll get a toy of a lifetime. Or at least, you get a toy that will get your kids out to play for a whole summer. And that's rare in this day and age, where fun is usually from a monitor or screen of some sort. It just goes to show that sometimes, an actual fun activity is much better than a simulation.