What kid doesn't love to do a little driving? Kids always want to do what the adults are doing, and driving usually tops the list. As a parent, you have to balance the fun factor with the risk of harm, and the Razor Dune Buggy seems like a perfect compromise. Actually, it's like getting two birds with one stone: you get something exciting for the kids while you don't suffer a heart attack worrying whether they'll get hurt.
Features of the Razor Dune Buggy
So what can you expect from this kid's dune buggy? Here are some features you can get with your purchase:
This dune buggy for kids is 41 inches long, 26.5 inches wide, and 17.5 inches high. It weighs 65 pounds.
The electric dune buggy is powered by two 12V sealed lead acid rechargeable batteries. Your charger is included in your purchase. Your initial charge time will last for 18 hours, and then the next time you can just recharge for 12 hours. When not in use, you should still recharge once a month. This will give you 40 minutes of driving.
The battery life will last for 250 charge cycles. But you shouldn't store the Razor Buggy below 32 degrees as this can damage the battery.
The 350 watt motor offers variable speed, with a hand throttle and brake controls.
Supposedly, it should be driven by 9 year old kids, but even the manual specifies that it's up to you to determine if your child is old enough to possess the skills and maturity to drive this thing according to the rules.
It features 8-inch knobby pneumatic tires and terrain-following rear suspension.
There's a bucket seat with a strap, and there's even a flag included.
It can be stored vertically.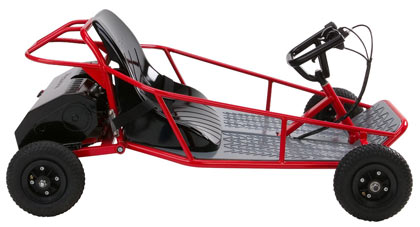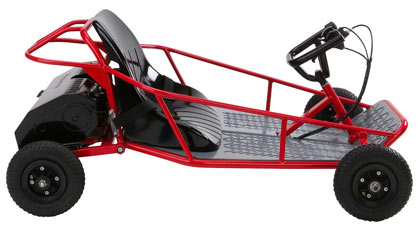 Pros
First of all, you don't really have to have a panic attack at the thought of assembling this kid's dune buggy. It actually arrives preassembled (basically speaking) and often it's also recharged. That means when you open it in front of the kid, you don't have to get into a furious argument because you (or rather your kid) can ride it right away.
There a lot of legal stuff in the manual so that you don't blame Razor if something goes wrong. But according to many reviews, even kids as young as three can really get the hang out of this thing. It's that easy to use. You just use a thumb paddle for acceleration. This is much better than learning how to operate a foot pedal.
But of course, Razor hasn't forgotten about the safety factor. Even though their lawyers may have helped them with the legalese in the manual to avoid, Razor actually thought about safety when they built this dune buggy for kids.
Perhaps the most crucial factor here is the reduction in the speed compared to the other models. At just 9 mph, it's a lot safer. You can even set the throttle so that it goes even slower. And when you release the accelerator, it actually slows down quite quickly. There's a brake, but it may be necessary only when the Razor Dune Buggy go kart is rolling downwards.
It's also better than a go kart because it can easily handle bumps of an inch or two. It's even a smoother ride because of the soft tires. It steers really well, and it rides great. It rides over grass, cement, or asphalt without a hitch. Just don't ride it over watery surfaces.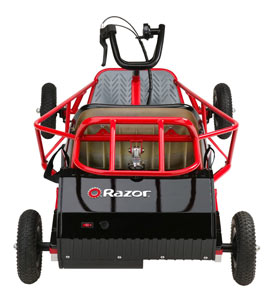 Cons
Of course, even this electric dune buggy has some room for improvement. One thing you have to remember as a parent is that if you have a very young kid driving, you may want to watch over them. This is especially true when it's being driven uphill. It just won't run well that way.
You may also want to make sure that there aren't any very high obstacles or rocks on the driving area. The ground clearance is just about 2 inches.
There's also a light that indicates when the battery is low, but it doesn't say just how much battery life is left. And kids, you have to admit, don't really pay attention to this kind of light. The result is that you'll have kids riding this until the battery runs out, and then you're left with the task of having to carry back this 65-pound gadget home to recharge it.
Conclusion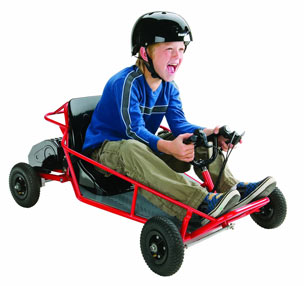 So if you find a Razor Dune Buggy for sale, should you go and buy it? If you take the advice of a lot of customers, then you really have to consider it seriously. In its Amazon page, it has amassed 85 five-star rating reviews with just 11 one-star rating reviews. That's a rather respectable ratio.
This is essentially a toy, and you shouldn't forget that fact. And that means it can break quite easily, so you really shouldn't take that whole "offroad" thing seriously. What that means is that you can take the Razor electric dune buggy to the park and you don't need a super smooth surface to get things doing.
But this is an awfully effective toy. The Razor Dune Buggy go kart offers a lot of fun, and there are too many reviews from satisfied parents who have attested to this. Simply put, the smiles your kids will be wearing will be all the justification you need to get one of these things. It's perfect for a very long summer break.
So is that what you want? Do you want your kids to play outdoors, in a vehicle that's exciting yet safe to drive? Do you want them outdoors playing, or cooped up inside playing video games? If that's what you want, then the Razor Dune Buggy is what you need to get. You won't regret it.
This thing is fun on wheels, there's no denying that. And unlike other Razor products, this kid's dune buggy is actually very durable. All in all, your kids have fun outdoors, in a safe way, and in a vehicle that's actually safe and doesn't break down easily. What more do you want? Even the price is reasonable!