With a chassis that has been tuned for racing and rear wheels equipped with the Super Slider™ POM, any child will be delighted with the Razor Ground Force Drifter. This go cart may well be a reinvention of the classic go carts that were renowned for their "fast and furious" speed. This time around, this particular Razor model's wheels make it as easy as pie to slide through corners and makes 360 degree turns and fish tails a breeze.
Kids will get an adrenaline rush as this Razor Drifter go kart gives them a smooth but powerful drive with a motor that's chain driven and has variable speed that are less intrusive in gated communities, playground areas and neighborhood parks. This particular Razor model has a safety flag and durable, wide bucket seat to keep the rider secure and in place all the time, even when doing stunts.
Product Specifications
Dimensions after assembly: 39.5 inches by 26.5 inches by 16 inches.
Weight: 55 pounds.
Comes with a battery charger.
Recommended for kids ages eight years old and up.
Speed: 12 MPH maximum.
Comes with two sealed rechargeable lead acid batteries of 12V each.
Motor is high torque and chain-driven.
Up to 45 minutes of usage.
Rear break is hand operated.
Solid steel frame construction.
With variable speed.
Fits easily into a mini van or standard SUV.
Comes with a flag.
Durable and wide plastic bucket seat.
Assembly is required.
Equipped with Super Slider™ POM rear wheels.
Capable of containing a rider with a weight of up to 140 pounds.
Front wheels are molded from aluminum and have solid rubber tires.
Kid-friendly acceleration control with thumb triggering action.
Battery charging time is 8 to 12 hours.
Easy to clean with just soap and water.
Comes with a set of tools for completion of assembly.
With a three-point strap for shoulder.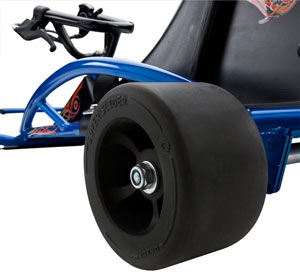 Features
This Ground Force Drifter model is able to "drift" quick 180 degree turns through corners very easily. Its high torque motor is chain driven, capable of reaching speeds to a maximum of 12 MPH, fast enough for any child to be thrilled. But parents need not worry about the speed issue because its rear brakes and handle is capable of a unique thumb triggering action to control speed.
While the front wheels are made of durable molded aluminum, the rear has the patented Super Slider™ POM wheels. POM, incidentally, is a type of thermoplastic material characterized by hardness, rigidity, and high strength. The wide bucket seat of this Razor drifter kart has a strap-on seat belt to keep a child safe and secure while driving or performing stunt. And its steel frame has been designed to withstand even the most rugged usage.
Pros of the Razor Drifter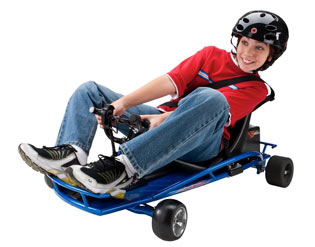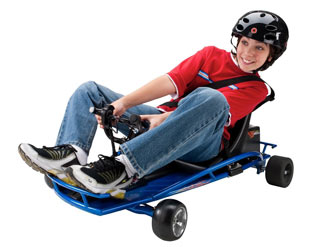 The best "pro" for the Razor's Drifter go kart model is several advantages which an electrically-powered go cart offers. First, parents need not be worried that their children will go off somewhere endlessly because of the time and mileage limits that this go kart can run (40 to 45 minutes). Second, it isn't powered by gas, so there's no potential hazardous effect on both a child's safety and health. Last, but not the least, this Razor model is environmental-friendly because of its support of the "Green Movement."
Those two batteries of 12V each that come with a purchase of a Razor Drifter go cart are rechargeable, just plug it into an electrical outlet and charge it overnight (eight to 12 hours). The speed control is variable with a thumb-trigger acceleration control, so the child can either go faster or slower, and the rear brake is hand-operated to give a maximum level of drifting control. Driving action is safely enhanced with slick Super Slider™ POM solid rubber tires.
The other features of the Ground Force Drifter have all been designed with security and safety of the rider in mind such as the durable and wide bucket seat that can accommodate a weight of up to 140 pounds for kids who are eight years old and up, the built-in three-point shoulder strap to keep a child secure and in place even when zipping around in speeds up to 12 MPH, and a solid frame made of sturdy steel that can withstand rugged usage and different gaming conditions.
Cons of the Razor Drifter
The length of the charging time may leave some children impatient to use the Razor Ground Force Drifter kart again. Another "con" is its limited and exclusive usage in large backyards, private tracks, gated communities, asphalt sidewalks, pavements, and other similar controlled environments.
While its "low-to-ground" feature is advantageous because it won't flip over easily as it would have the tendency to if constructed higher, this same low build may be at a disadvantage in places with a lot of cars or high traffic where the low built go kart may not be seen immediately.
Conclusion
This Razor go cart model has been given an Amazon rating of five stars by more than half of the 202 customer reviews published on the site. The "cons" submitted in the reviews are not really about the functionality of the go cart than its build or other features and specifications. If you need a go cart that your child can use in poor road conditions, you can always look for a model that will meet your environment's condition better. However, for the most part, the Razor Ground Force Drifter is definitely a good choice.
The safety of this particular Razor model has been rated highly by people who have bought it. Even its "drift" design has been explained by several customers to mean controlled sliding motions around corners and not spinning out or grinding its wheels to shreds. Safety and security are well provided by this Razor model. Frankly speaking, all the Razor Ground Force Drifter Go Kart needs is just adult supervision when in use, something which responsible parents know they need to do.