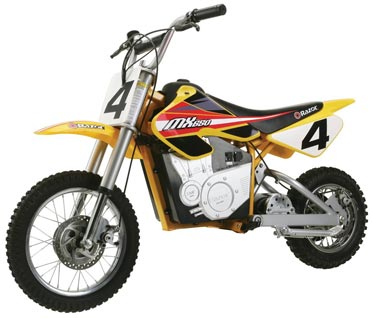 For many parents, a regular gas-powered motor bike can be problematic. From a bystander's point of view, they can be too fast and that's dangerous for the rider. It's noisy too, and that means trouble with the neighbors because of all the ruckus. And of course, it's very costly.
And that's why the Razor MX650 is a perfectly reasonable alternative, because none of these problems apply. What it does have in common with a regular motor bike, however, is that they're both truly enjoyable to ride.
Features of the Razor Dirt Bike MX650
Here are the specifications and features that make the MX650 a truly top-of-the-line electric motor bike:
The chain-driven 650W electric motor can offer variable speeds of up to 17 mph.
When assembled, it measures 56″ x 24.5″ x 36″ and weighs 98 pounds.
The power comes from three 12V sealed lead acid rechargeable batteries. The charge time is 12 hours. It comes with a battery charger, along with other tools needed for assembly and maintenance. The MX650 Razor can run up to 40 minutes or for 10 miles (although this can be longer if the rider is smaller and lighter).
It comes with some similar features found in the less powerful MX500: Twist-grip acceleration control, hand-operated dual disc brakes, Dual suspension and adjustable riser handlebars, large 16-inch front and 14-inch rear pneumatic tires, double crown fork, folding metal foot pegs, and a retractable kickstand.
The super-cross inspired scaled down dirt bike design can carry up to 220 pounds.
Assembling the Razor MX650
The manual is quite helpful especially when it explains how to assemble and maintain the MX650 Razor Dirt Bike. But sometimes you'll get a sneaky feeling that some of the recommendations listed on the manual were written by lawyers so that Razor won't have to face any liability cases.
For example, the manual recommends that the Razor MX650 Dirt Rocket Electric Motocross Bike is best for 16-year old kids or older. On the face of it, this is true since it's a bit larger than other Razor electric motor bikes and it can hold a lot more weight. But there are too many reviews which confidently state that even 9-year old kids can handle this baby.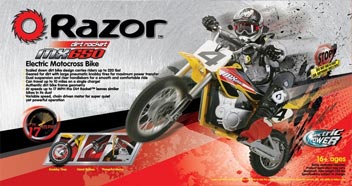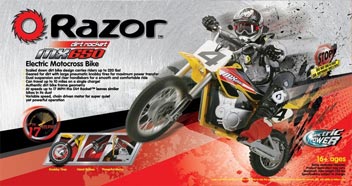 Perhaps you should just heed the manual's words which basically say that it's up to you to determine if your kid can handle this MX650. A 9-year old with motor bike experience will have no problem with this. But those young kids who are essentially new to motor bikes may be better off with the less powerful and smaller models such as the Razor MX500.
But the bonus is that as a parent, the 220-weight limit may even accommodate you as long as you're light enough.
The manual is quite clear and understandable about the assembly required for the Razor MX650. All you need to do is to attach the handlebars, front fender, number plate, and the front wheel. You should then make sure the wheels are inflated properly, then you charge it for 12 hours (overnight is best).
It will take you only about half an hour to complete the assembly. And you don't have to scrounge around the house for the proper tools, as they are included in your purchase.
Riding the Razor MX650
The manual states that it should be ridden only on "flat, level ground without loose debris such as rocks or gravel." These words seem embedded on the manuals for just about all the Razor vehicles, and it seems like a lawyer talking. But the reality is that the  Razor Dirt Rocket MX650 is extremely tough. So you don't have to worry about some "non-smooth" terrain. The MX650 can handle regular bike paths with no problem
This toughness has been confirmed by a lot of customer reviews. It's a constant refrain. On smooth roads, the speed can even get to 22 mph, although the hard surface may be hell on the wheels when the rider presses on the brakes.
It is a very good idea to have your kids wear helmets and other protective gear when they ride this bike. This is especially true for the younger kids who may not yet be used to the speed of the Razor MX650. This can really help kids when they get into the occasional tumble, and it'll prevent you from having a panic attack.
It's truly fun for just about everyone. It can accommodate people of various ages, so that's quite a bonus. The "fun" factors also include": its low price; its very quiet operation, and its durable parts and design.
Perhaps the only non-fun factor is that you're limited to just 40 minutes of fun a day. While some reviewers have commented that it can last for more than an hour (especially with the younger kids who don't weigh as much), that may not be enough for some kids. An hour a day out riding means that they have to figure out what to do for the rest of the day.
Conclusion
Essentially, the Razor MX650 Dirt Rocket provides just about all the fun you can get from a typical gas-powered motor bike, but without all the potential problems that such a motor bike brings. Now you don't have to worry about your kid riding too fast, and your neighbors will have no cause to complain about the noise. And even the cost is very reasonable.
It's not surprising that in its Amazon page it has received 121 five-star rating reviews against just 25 one-star reviews. The keywords here are "fun" and "tough". Unlike other bikes, it can take some bit of abuse.
So should you get it? That depends. Do you want an exciting ride that's also safe, reliable, affordable, and perfect for younger kids and older kids (and even parents)? If so, then yes, you should get it. You get your money's worth, you don't have any worries, and you won't find anything better with your money.
All your problems then will be scheduling who rides the bike when—everyone in the family will clamor for a ride.