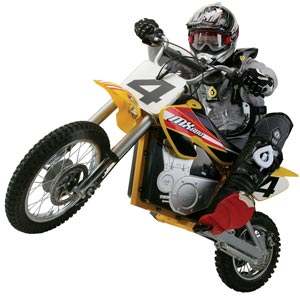 There was once a time when grounding was a serious punishment for the offending child. During that point in time, kids loved playing outdoors and they'll do anything just to keep that privilege. Fast-forward to a couple of decades and you'll notice empty streets, devoid of children's laughter. As a parent of this generation's youngsters, you are a daily witness on how kids would rather stay locked inside the bedroom with their gadgets and consoles than go outside and get some sun.
If you find yourself nodding your head while reading the paragraph above, then you must be looking for that perfect birthday or holiday present to get your kids to leave the house. Following is a comparison of three dirt bikes for kids that will get the job done.
Razor Dirt Rocket Comparison Guide
| | RAZOR MX350 | RAZOR MX500 | RAZOR MX650 |
| --- | --- | --- | --- |
| | | | |
| OUR RATING | | | |
| REVIEWS | MX350 Review | MX500 Review | MX650 Review |
| RECOMMENDED AGE | 13+ | 14+ | 16+ |
| WEIGHT LIMIT | 140 lbs | 175 lbs | 220 lbs |
| SPEED | up to 14mph | up to 15mph | up to 17mph |
| WEIGHT | 65 lbs | 98 lbs | 98 lbs |
| ASSEMBLED DIMENSIONS | 44"x 24.5"x 31" | 56" x 24.5" x 36" | 56" x 24.5" x 36" |
| BATTERY | 24V (two 12V) sealed lead acid rechargeable battery system | 36V (three 12V) sealed lead acid rechargeable battery system | 36V (three 12V) sealed lead acid rechargeable battery system |
| BATTERY DURATION | up to 30 minutes of continuous use | up to 40 minutes of continuous use | up to 40 minutes of continuous use |
| BATTERY CHARGER | YES | YES | YES |
| BATTERY CHARGE TIME | 12 hours | 12 hours | 12 hours |
| MOTOR | high torque, chain driven motor | variable speed, high torque, chain driven motor | variable speed, high torque, chain driven motor |
| BRAKES | hand-operated rear brake | hand operated dual disc brakes | hand operated dual disc brakes |
| TIRES | large pneumatic knobby tires | large 16" front and 14" rear pneumatic tires | large 16" front and 14" rear pneumatic tires |
| RETRACTABLE KICKSTAND | YES | YES | YES |
| TWIST-GRIP ACCELERATION CONTROL | YES | YES | YES |
| ADJUSTABLE RISER HANDLEBARS | YES | YES | YES |
| DUAL SUSPENSION | NO | YES | YES |
| | | | |
Razor MX350
If your kids have reached the age when bikes are no longer appealing, then maybe it's time to give them something that closely resembles a motorized vehicle. The MX350 Razor dirt rocket will help your kids get the hang of riding a motorcycle in the safest way possible.
This dirt bike for kids is specifically made for light riders who weigh below 140 lbs. Furthermore, the bike's innovative motocross design makes it suitable in terms of size and appearance for both boys and girls. Also, the bike can run around the neighborhood for ten miles with one charge so you won't have to worry about your kids going to a place beyond your reach. You are also saving a lot of cash as opposed to motorbikes powered by gas.
One surprising thing about the bike is the power that your child will get from its ultra quiet variable speed chain driven motor. Maximum speed can go as high as 14 mph depending on the rider's weight. The speed is controlled via the twist grip throttle control, and the rear break is hand operated, similar to adult motorcycles. For a smooth ride, the riser handlebars provide the rider with the right amount of control and cushion for off road adventures.
Age: Although this Razor dirt bike has been marketed for kids 12 and above, consumers have noted that the product is also suitable for young ones who are 5-8 years old. Of course, some kids grow faster than others, but if you are looking for a measurement standard, the weight limit provided above is the figure to remember. The product is an entry level electric dirt bike which means it is ideal for a kid who has already learned how to ride a bicycle without training wheels.
Performance: Once the rechargeable battery is fully charged, your kid can ride around continuously for about 40 to 60 minutes. The dirt bike is incorporated with a 350 Watt high-torque motor that is powered by a two 12 V lead acid battery while the 12 inch tires provide efficient power transfer.
Safety: Even if the dirt bike travels at a speed faster than a golf cart, it is built with safety in mind:
The product was manufactured using a professional motocross bike as a template and as a result, it can handle the punishment from even the most abusive kids.
Second, the bike weighs around 70 lbs which makes it easy to handle and carry. If your kids lose balance, they can easily use their feet to regain control.
When it comes to ride safety, throttle control and brakes are in the hands of the rider.
As for bumpy and rough terrain, the knobby pneumatic tires keep your kids from violently bouncing as they ride.
The long charging time makes sure you are in charge of kids' ride schedule, and the travel time limit regulates the distance of your children's ride.
Suitability: The product is a good fit for lighter and younger kids who know how to ride bikes with no training wheels and for parents who are looking for a safe outdoor activity that their child can occupy themselves with.
You can find full specs, features, plus pros and cons in our Razor MX350 Review.
Razor MX500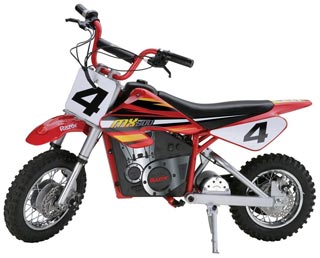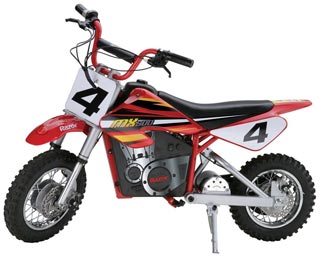 This Razor electric dirt bike is a faster version of the MX350. It can go quicker than 14 mph and can carry any kid weighing below 175 lbs. Furthermore, the bike can be easily assembled so don't get too intimidated if you think you have limited technical ability.
Age: While the company's website claims that the dirt bike is suitable for teenagers, those who have tried the product will say that it can be used by an eight year old kid. If you have a 12 year old child, it is better to get a bigger bike model like the MX650.
Performance: As the faster version of the MX350, this dirt bike carries a 500 watt high torque electric motor powered by a rechargeable 36 V battery system that needs to be charged for twelve hours. The MX500's top speed is 15 mph but it can go higher, depending on the weight of your child. Similar to the MX350, this bike is also equipped with knobby tires for supreme power transfer. At the very least, the bike can run for 40 minutes without stopping.
Safety: Even if your kids wear safety equipment like helmets or kneepads, accidents are bound to happen if the product is not reliable. The MX500 is not one of those products because aside from the specifications discussed above, it is built with a number of safety features.
It is not as dangerous for kids as with a gas powered vehicle, because there's no risk of catching fire. This dirt bike is an electric powered vehicle which means the chances of getting the product engulfed in flames is virtually eliminated.
The huge 16 and 14 inch knobby tires are fixed to a frame with dual suspension. Your kids will enjoy a smooth cruise even on rough terrain. More importantly, your children will not lose control even if they run over a small obstacle.
The dirt bike is easy to drive and maneuver with the adjustable handlebars. The dual-disc handbrake will get your kids to halt on a dime.
Suitability: The product is a good match for 8-14+ year old youngsters who want to go a bit fast on both rough and smooth terrain and for parents who are willing to give their kids a taste of adventure.
To find out more about the Razor MX500, read our full review here.
Razor MX650
Just like the other two kids dirt bikes, the MX650 is an electric powered vehicle that will get your kids' system going with its top speed of more than 20 mph. This dirt bike for sale has dual suspension handlebars that deliver smooth rides even on the bumpiest terrain. For a bike that provides a lot of power, its variable speed chain driven motor is absolutely quiet.
Age: In terms of age, the company suggests that the dirt bike should be ridden by teenagers who are at least 16 years old. However, the bike's 220 lbs weight limit makes the recommendation almost impossible since kids that age are nearing the end of their growth spurt. In reality, the dirt bike is suitable for a 10 year old kid. At this age, your child will have years and years of heart stopping fun with the electric powered vehicle.
Performance: From the model's name, this dirt bike is outfitted with a 650 Watt high torque electric motor running on a triumvirate of 12 V rechargeable batteries. For a twelve hour charge, you can expect your kid to enjoy 40 minutes of uninterrupted ride. The electric vehicle has a maximum speed of 22 mph which is quick enough for a young kid but not fast enough to cause major mishaps.
Safety: The MX650 is also built with safety features similar to the two previously tackled Razor dirt bikes:
Since the vehicle is electric powered, a leak is your worst case scenario.
Dual suspension and large knobby tires allow for a comfortable ride.
Easy to use throttle with front and rear handbrakes for instant stoppage.
Suitability: If you are ready to give your 10 year old a safe but an adrenaline pumping ride, then get this product now.
Our Razor MX650 review covers all you need to know about this great dirt bike for kids.
Conclusion
The MX350 is a super rugged and sturdy entry level dirt bike suitable for kids as young as 5 years old. For kids 8 years old and above, the MX500 is a great choice, especially if you are ready to release the reigns so you can see your kids go a bit faster. Lastly, children who are about to hit puberty can enjoy the final years of their childhood on an MX650. All these Razor bikes come with rechargeable batteries and are designed with safety as a priority.
Kids these days are confined inside the house with an abundance of gadgets to play with. A Razor dirt bike can be that one of a kind gift that will get your children back outside.