Kids love motor bikes, there's no question about that. But sometimes that love can turn to hate when you buy an inferior bike that doesn't ride well, goes too slow, and breaks easily. And as a parent, you'll hate a bike a lot if they're expensive. And that's why you really need to look at the Razor MX500 Dirt Rocket.
Features of the Razor MX500
So what do you get with the MX500? Here are the specs and features you can expect:
It weighs 98 pounds, and its dimensions are 56″ x 24.5″ x 36″.
It comes with three 12V sealed lead acid rechargeable batteries. The battery charger is included. It takes a maximum of 12 hours to recharge, which provides 40 minutes (or 10 miles) of continuous use. The batteries will last for a year or two (250 recharge cycles).
The steel construction, authentic dirt bike frame geometry comes with large pneumatic tires (16 inches in front, 14 inches at the rear).
The chain-driven 500W electric motor comes with high torque and variable speeds of up to 15 mph. But it is very quiet as well.
The speed is controlled by twist-grip acceleration and hand-operated dual disc brakes.
It comes with dual suspension for a nice comfy ride.
There's a set of riser handlebars plus a retractable kickstand.
It is recommended for 14 year old riders, and it has a rider weight limit of 175 pounds.
Comments and Opinions
First of all, this is an intermediate bike only in terms of size. What this means is that if your kid is a motor bike beginner, then this is perfect for them if they're big enough. It's an intermediate bike only in the sense that it's an upgrade over the smaller MX350. If they're moving on from the MX350, then the improvements are considerable.
It's bigger, and with the greater weight limit it can accommodate older kids. But again, you're not exactly required to follow the 14 years+ recommendation. The manual actually says that you should see only that your kid is mature, strong, and able enough to handle the Razor dirt bike MX500.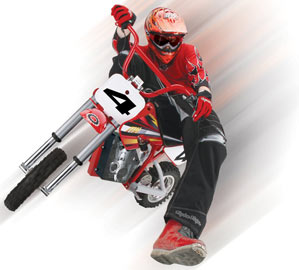 If your kid starts riding this at 14, then they'll only be able to use it for a year or so before they hanker for something bigger (like the MX650). And that's why some customers remark that it's okay for even 10-year olds or even tall 9-year old kids.
The manual also says that it's intended for use on flat level ground without any debris. That simply means that this wording may have been insisted on by lawyers, because everything else about the MX500 Razor says "offroad". The large knobby tires, the greater power, the authentic dirt bike frame geometry, and the suspension all say that you can really use this on dirt roads. Even the name Razor MX500 Dirt Rocket makes you think that you're not limited to smooth roads.
However, it's not really a good idea to use this on muddy roads. The wet may damage the electric motor, and besides, having a 98-pound bike drop on a kid's leg may present problems. But in general, most dry dirt roads where you can pedal a bike comfortably will also be good enough for the Razor Dirt Rocket MX500.
The assembly doesn't take all that much. Most of it is already preassembled anyway. You just need to attach the handlebars, the front fender, and the number plate. You then attach the front wheel. If you're lucky, it will be pre-charged, but you may have to recharge the batteries overnight for12 hours first.
Pros and Cons of the MX500 Dirt Rocket
There are a lot of good things to be said about the Razor MX500 Dirt Rocket electric motocross bike. For your kids, perhaps the most important consideration is that this beauty is fun to drive. There's no denying this fact, and you won't ever have to worry that they won't like it. Enthusiasts and casual riders will clamor to ride the Razor dirt bike MX500 every day.
As a parent, you can also be consoled by the fact that it's very affordable, when you compare it with how much other similar motor bikes cost. And it's much cheaper than a gasoline-powered motor bike. It's also quite safe as it doesn't really go all that fast. And the bonus is that if you're the right size and weight, you can ride it yourself every now and then.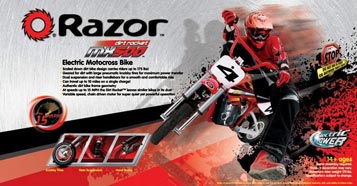 It's very easy to assemble, and the manual is quite clear and unambiguous about how to do it. The construction is also robust, so as long as it's well-maintained then this baby can be ridden for years.
Of course, it's not perfect. While a single kid may be content with 40 minutes of riding, if you have more than one kid and they have to share then you'll have a problem. The quick solution to this problem, however, is quite obvious: buy another one!
But when something goes wrong because you neglect the maintenance, you will then have to deal with the 90 day warranty. The replacement parts may not be quite as affordable as well.
Conclusion
There's one good reason why the Razor MX500 has amassed 144 five-star reviews – this bike is truly fun. The reviews are a virtual thesaurus with lots of synonyms for the word "great". Words like "perfect" and excellent" in reviews are common.
So should you get one? If your kids are still young, then this is a great prep bike before they graduate to the real thing. They'll enjoy it a lot and they'll learn many things about handling motor bikes, while you don't have to worry about excessive speeds and difficult handling. A lot of parents have remarked that even 9-year old kids have no problems using this bike.
One final note, though. It's not a good idea to neglect maintenance, and nor should your kids bang the MX500 Razor to the ground a lot. While it can handle gentle offroad conditions, it's still not a good idea to abuse it. You may have to replace the fuse when the motor overheats because the rider is too heavy or the incline is too steep.
Still, this is a fun ride, and when toys and kids are concerned this is the number one consideration. At least you know you're getting your money's worth with the Razor MX500 Dirt Rocket electric motocross bike.