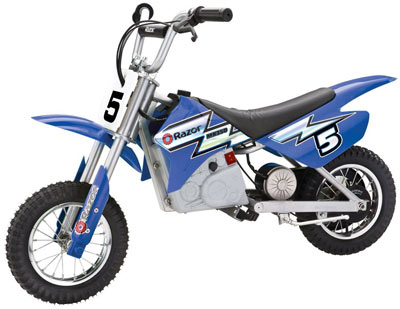 As kids grow up, they keep on seeking more and more challenges. This can be a problem when you buy them toys, since after just a little bit of time they'll master the toy and then want something else. If your kid has been playing with mini go karts and trikes and bikes, then sooner or later they may want a motor bike. And that can be problematic, because some motorbikes are just too fast for you to even think about your kids riding them.
And that's why a lot of folks are choosing the Razor MX350 Dirt Rocket instead. With this choice, kids and parents can both be happy.
Specifications and Features of the Razor MX350
Here are some of the things you can expect when you buy the Razor MX350 Dirt Rocket electric motocross bike:
Its dimensions are 44 x 24.5 x 31 inches, and it weighs 70.25 pounds.
It's powered by two 12V sealed lead acid batteries. You'll need 12 hours to charge it up, and it can then be used continuously for 30 minutes. The battery is good for 250 recharge cycles.
The manual specifies a rider weight limit of 140 pounds, and recommends the Razor MX350 for ages 13 and above.
It as a single-speed, chain-driven 350-watt motor that's noticeably silent.
The large knobby tires can drive up to 12 miles per hour.
The handle bars are adjustable, it has a twist grip throttle control, and the rear brake is hand operated.
The older models of the Razor MX350 Dirt Rocket have suspension, but Razor has officially confirmed that all suspension has been removed from the later MX350 versions.
It has a 90-day warranty and is non-refundable.
Comments and Opinions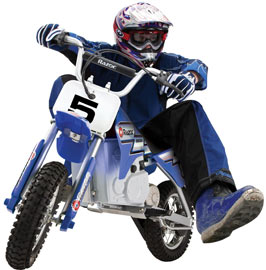 For the most part, if you buy the Razor Dirt Bike MX350 for your kids then you will have to exercise a lot of discretion. Many of the kids who ride this electric motorbike have truly fallen deep in love with it, and that will be a relief for you as a parent. After all, it's not unheard of to buy an expensive gift for a child who doesn't appreciate it.
It's why there's this cliché about a kid living the box more than the toy the box contains. At least this won't be your problem. But ultimately, it will be your opinions and judgments which will decide many things.
First of all, there's a lot of confusion as to how old the rider of the MX350 Razor should be. The manual recommends 13 years of age, but the 140-pound limit and the small dimensions don't exactly make it ideal for older riders. In fact, many online reviews say that the riders are much younger, with some as young as 7 or even 5 years old.
Razor acknowledges this, which is why the manual also states that it's your decision whether to let your kid ride the Razor MX350. You will have to make the determination as to whether your kid is mature and skillful enough.
Your other decision involves where you can have your kids ride the MX350. The knobby tires and even the use of the word "Dirt" in its name imply that it's for offroad riding, but the manual doesn't actually say so. In fact, it's stated that the "Dirt Rocket is intended for use on flat ground loose debris such as rocks and gravel." It further states that bumpy or uneven ground may damage the bike. So you'll have to decide where your kid can ride, because the manual also states that public streets where there are pedestrian and motor traffic are not great places for these bikes.
But essentially, this is the perfect "first" motorbike for a kid. You can use this for practice, and when your kids get older and bigger they can then graduate to bigger motor bikes. But if they don't go on to ride larger bikes, then you'd have saved a bit of money, because the Razor MX350 is quite affordable.
Pros and Cons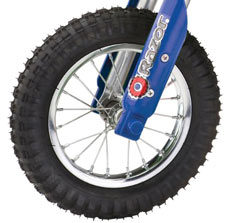 There's a lot going for the MX350 Dirt Rocket, aside from the fact that kids love it. As the parent, you'll love the fact that it will only take you half an hour to assemble. It's mostly preassembled when you receive it. You just need to attach the handlebars, the front fender, and the number plate.
In general, it's easy to maintain and use. It's a very safe too, as it's not really all that fast. You may want to make sure that your kid wears protective clothing such as a helmet. It's actually quite durable, as long as you don't bang it around.
It's silent so you won't bother the neighborhood, and the electric motor is "green", so to speak. Of course, you'll have to make do with the half hour limit. Some reviewers say that it can last for longer than that, but if you exceed this limit then you may find yourself having to carry this 70 pound bike home. This isn't a problem with regular bicycles.
Conclusion
Is the MX350 Razor a good buy? Judging from the various Razor Dirt Rocket MX350 customer reviews online, the answer is definitely affirmative. On Amazon, the ratio of full marks to one-star rating is about 5 to 1, with 249 5-star reviews and 98 fours-star reviews. Most reviewers attest that their kids absolutely love this electric motor bike.
So should you get the MX350 Dirt Rocket? In terms of bang for the buck, the Razor MX350 Dirt Rocket is superb. You won't be able to find a comparable motor bike with this kind of price tag.