The Razor Trikke E2 is an electric powered, three-tire scooter designed for children aged eight years and older. Manufactured by Razor, one of the most recognizable companies that manufacture scooters, bikes and similar products, the Trikke E2 gets a lot of raves for its good looks, energy efficiency, and safety.
Razor has been in the business of scooter production and trade since the turn of the century. Its first scooter was introduced in the market in 2000, and sold more than five million units in just six months. That same product was named toy of the year in 2001.
Three years later, the company came out with its very first electric scooter. This is the predecessor of the Trike Scooter. The first Razor electric scooter was not only geared at children and teenagers. It was also targeted towards adults who are looking for an energy efficient mode of transportation, what with the constantly rising prices of gasoline.
But the Razor Trikke is specifically designed for children, basing on the features of this scooter.
Features
The Razor Trikke E2 is a three-wheel electric scooter that is capable of speeding up to 9 miles per hour. Its battery life can last up to 40 minutes of continuous use, making it the perfect companion for going around the neighborhood or making a quick trip to the neighborhood convenience store. The two 12 volt batteries are rechargeable, and the product comes with a battery charger.
The trike scooter has a push start system and a hand brake. It also has a twist-grip throttle for ease in handling. This electric tricycle has six-inch urethane wheels. It can support up to 120 pounds, and Razor recommends this to children aged at least eight years old.
Pros
There are many advantages in using this Razor tricyle. One of the prime reasons why parents are buying this scooter and giving this to their children is that it is safe to use. The three-wheel design means more stability on the part of the user, and children should have no problems riding on this scooter. Unlike two-wheel scooters, the Razor Trikke won't easily fall and this means riders should be able to prevent accidents.
Speaking of accidents, there is a very minimal risk of this Razor tricycle getting involved in one because its speed is limited to 9 miles per hour, or around 13 miles per hour. The speed limit ensures that the rider won't be speeding fast enough to hurt a pedestrian or crash into a property.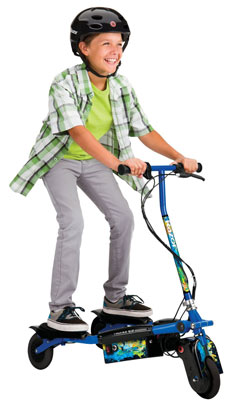 Safety is also guaranteed by Razor as it has equipped this scooter with a rear brake. The rear brake can be activated by hand. It also has a steel frame that can protect the scooter from wear and tear.
Going back to the three-wheel design of the Razor Trikke E2 electric scooter, the said design makes this scooter an ideal gift to children because it is easier for children to learn how to use this scooter. The three wheel design makes it easier for the young ones to keep their balance and it can even be concluded that Razor designed this electric scooter specifically for children who want to learn scooter riding.
In fact, this Trikke E2 scooter has a one-push quick start system that makes it easy for the rider to start the machine. Steering the scooter is also easy because all the rider has to do is to lean to steer this motorcycle.
With the battery able to last for around 45 minutes, the scooter should provide enough riding joy to its user. After all, the scooter is designed for children so one should not expect them to ride a scooter for more than an hour.
The Trikke E2 scooter is also easy to assemble, with parents able to put it together in less than 30 minutes.
Cons
The scooter weighs around 42 pounds, thus it can be quite heavy to move around. Parents may have difficulty putting this electric scooter at the back of their car if they intend to move it to another place.
Some reviews indicate that this electric scooter's wheels are not as durable as they could be and may be prone to damage after a lot of use.
The battery life of the scooter is also not the most noteworthy feature of this ride. The battery of the Trikke E2 is designed to last for up to 250 charges and many online reviewers agree that Razor could have prolonged the battery life of the scooter. Likewise, the battery life of this electric scooter will be affected by the weight of the user. The heavier the user is , the more likely that the battery life will be shorter.
Although the three-wheel design of the Trikke E2 provides a lot of stability to its riders, the problem is that it sacrifices maneuverability. Thus children may not be able to make moves that they could usually do when using a two-wheel scooter.
Conclusion
The Razor Trikke E2 electric scooter is a good gift for children who are just starting to learn and appreciate the joys of scooter riding. Its speed limit of 9 miles per hour is not fast by any standard, but it will ensure that the rider won't get into any kind of trouble.
The battery life is not the best, but Razor electric scooters are not exactly known for their long-lasting batteries. Overall, the Trikke E2 is something you'd want your children to have.