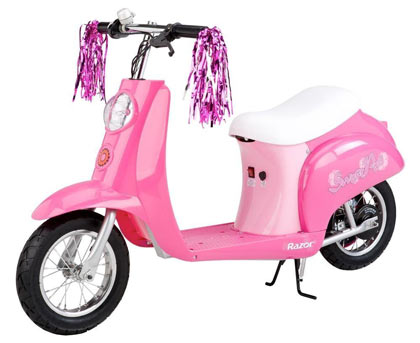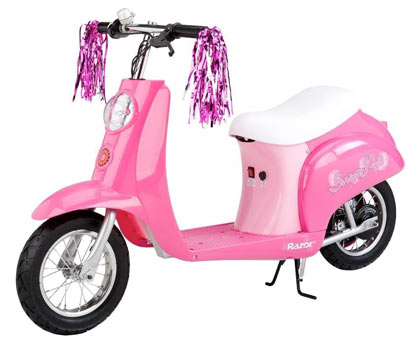 Whoever said that only boys can have fun on scooters hasn't heard of the Razor Pocket Mod electric scooter that has become increasing popular among teenage girls. This electric scooter for kids has a real cool retro look to it, inspired by its vintage design. A young lady can, literally, "scoot" her way to school, the mall, supermarket, or anywhere she needs to go.
Product Specifications
Material of front and rear wheels is rubber.
Front and rear wheels each measure 12 inches.
Suitable for ages 12 years old and up.
Padded seat can accommodate a combined maximum rider and passenger weight of 170 pounds.
Comes in "Sweet Pea" pink, "Vapor" black, and "Betty" purple colors.
Maximum speed level of 15 MPH.
Capable of continuous 45 minutes' usage after charging.
Comes with a retractable kickstand.
Equipped with a quiet, high torque, and chain-driven motor.
Moped design is inspired by a classic European scaled down scooter.
Charging time is eight hours.
Framework is made from high quality and durable steel.
Requires assembly.
Comes with tools for completion of assembly.
Comes with a limited manufacturer's warranty of three months (90 days) against product's defects.
Comes with two rechargeable batteries with 12V each.
Dimensions are 30 inches (height) by 50 inches (width) by 18 inches (depth) with a deck of 11 inches (length) by 10 inches (width).
A maximum distance of 10 miles may be covered from a single charge/
UL-listed battery charger.
Has a storage compartment underneath its seat.
Powered by 250 watts.
Features
It could take forever for a young girl to get her own car, so in the meantime, consider the Razor Pocket Mod scooter that will definitely be a delight to young ladies and boys everywhere. Short jaunts to the grocery store or just coasting along quiet roads will be more enjoyable on this sleek two-wheel electric motor wonder.
Taking a companion along with you isn't a problem with the Razor Mod scooter because it can accommodate up to 170 pounds of the combined weight of both driver and passenger with 12-inch pneumatic tires that provide smooth mechanical motion to provide seamless cruising in the city or country.
The reputation for quality workmanship, design that's cutting edge, top grade materials, excellent dependability, and safety consciousness go with each Razor design and this cute scooter is no exception.
Pros of the Razor Pocket Mod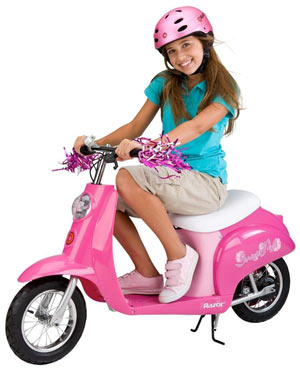 Style and functionality go hand in hand with the Razor Pocket Mod scooter, two factors that have made it a top choice for those who are always on the go. This particular Razor model is perfect for use in gated communities, neighborhood parks, and playground areas. The excellent suspension system and amazing inflatable tires make for a comfortable riding experience.
The aesthetics of this scooter have much to do with its appeal. Inspired by a design that's classically European in looks, this kids electric scooter is a scaled down, reasonably-priced version of the renowned Italian scooters commonly known as the Vespa. Young girls, as well as younger boys, who want to eventually learn how to ride motorcycles could practice on a Pocket Mod.
This Razor scooter's compartment underneath its seat is convenient for storage of small items such as lunch, laptops, books, cell phones, gym shoes, groceries, tablets, etc. Although Razor's recommended age for its use is by 12 years old and up, many customers have bought this electric scooter for much younger children for use (with adult supervision).
Cons of the Razor Pocket Mod
One drawback is the long battery recharging time as compared to similar products by other manufacturers. This "con" may not be as significant a factor for purchase consideration if the scooter is to be used only for leisure purposes. If the purchase, however, is meant to be used for going to school, running some errands, and other activities that require prompt delivery or completion, this long battery charging time could be a problem.
Conclusion
Despite the long time that takes for the battery to be charged, more than half of the 639 customers who bought and reviewed the Razor Pocket Mod gave it a five star rating on Amazon. While customer reviews agreed that the product offers great value for their money compared to other scooters, the real deal maker is its looks: classy, sophisticated, and with similarity to the Vespa, a certain chic that comes easily to European vehicles.
Its good looks are matched with a functionality that customer reviews appreciate: the storage compartment which, unlike those of other scooters that have baskets, secures all the items that go into it. This feature makes it impossible for anything to fall out because the storage compartment is brilliantly designed underneath the scooter's seat. Going uphill on this Razor scooter no longer equates with spilled water bottles, sweaters, and other what-have-you's.
As to the "con" of the long battery charging time, it can depend on the length of usage time, as some customer reviews pointed out. If your child rides it to school everyday, for instance, ensure that the scooter is charged after he or she gets home immediately. Or, if that isn't possible, take charge and see to it that the scooter is not used for anything else during the week when it is used as school transport.
Traveling on a scooter will be faster for your kid, albeit still very safe. Because of its great-looking design, traveling on this scooter is even a bonus for fashionista kids. If your child has been haranguing you for a car and he or she is 14, get your kid the Razor Pocket Mod right away. Its less dangerous than riding a motorcycle for your teenager; it is also cheaper than a Honda, and looks infinitely better than a Schwinn from all angles.
Buy the Razor Pocket Mod as a gift to your child and they will certainly thank you for it!