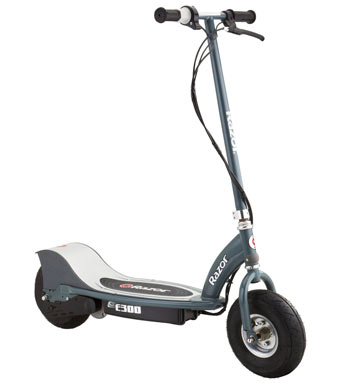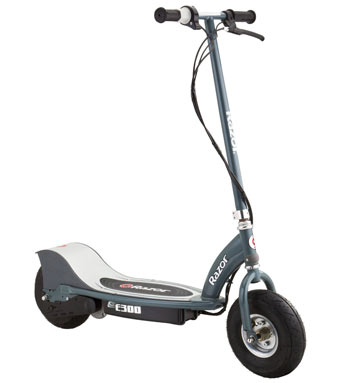 The Razor E300 and E300S electric scooters are two motorized scooters that are designed and manufactured by Razor USA. Founded in 2000, Razor USA also manufactures kick scooters, electric ride-ons as well as caster-driven products. The company is also engaged in the production of products for various extreme sports like surfing, skateboarding, snowboarding, and motorcross.
The Cerritos, California-based company is well-regarded amongst action sports athletes, urban dwellers, teens, and adults. The good reputation of the company is further enhanced by the Razor E300 and Razor E300S electric scooter.
The Razor E300 scooter and the Razor E300S basically are mirror-like images of each other. The most glaring difference between the two is that the latter is a seated electric scooter. The first is also a bit more expensive compared to the latter, with the Razor Scooter E300 retailing at around $260 on Amazon.com (as of 07/01/2020 PST *).
Razor E300
According to its manufacturer, the Razor E300 is considered as the fastest of the numerous electric scooters produced and sold by Razor. It is geared towards older teenagers and adult riders. As such, it can carry riders who weigh 220 pounds. The deck and frames are also supersized to accommodate riders who are at least 13 years old.
The scooter is powered by a high torque, chain-driven motor which enables it to zoom to as high as 15 miles per hour. The tires are also designed to support the scooter in carrying adults and teenagers, with its extra wide 10 inch size providing a smooth ride.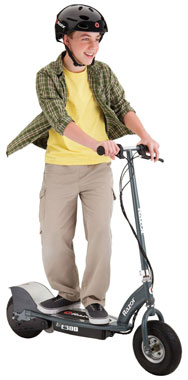 This scooter, which weighs approximately 52 pounds, is powered by a couple of 12 volt lead acid batteries. It would take around eight hours to fully charge the batteries. The product package includes the battery charger. When used continuously, the scooter can work up to 45 minutes.
The scooter is also designed in such a way that its users won't be involved in accidents while riding it. It has a large footplate with an anti-slip surface. It also has easy-to-grip handles, and with a twist-grip acceleration control it is easier for riders to control their speed.
The E300 electric scooter weighs just 20.1 kilograms and measure 108 cm in height and 43 cm in width.
Razor E300S
The Razor E300S seated electric scooter, meanwhile, comes with a seat post and seat both of which can be easily removed by the rider for stand-up riding. It also has a retractable kickstand and hand operated rear brake. Other than these features, it basically has the same features as that of the E300 scooter.
It can also zoom to a maximum speed of 15 miles per hour. It is powered by a super-quiet, high-performance and chain-driven motor. Like its twin scooter, it has extra wide pneumatic tires measuring 10 inches in width that allows its riders to enjoy a smooth ride.
The E300S also has a couple of 12-volt rechargeable batteries that power it. According to its manufacturer, the batteries only need a shorter charging time but can ensure up to 45 minutes of continued used for every charge.
Like the E300, the E300S electric scooter is also designed to carry riders weighing as much as 220 pounds. It comes in colors gray, blue or pink and measures 41 inches in length, 17 inches in width, and 42 inches in depth.

Pros of the Razor E300
The Razor E300 electric scooter gets a lot of raves with its huge deck. With such a big deck, the scooter is able to carry kids aged 13 years and older, as well as adults. It also helps that the tires are also big enough to support weight of up to 220 pounds. The scooter is also sturdily built and with such good construction, this product will last a long while.
Using the electric scooter is also simple. Riders simply have to pull the throttle on the handle and the scooter will accelerate to its maximum speed. When they let off the throttle, the scooter will slow down. In some instances, the brakes won't be needed when the scooter slows down. However most experts would suggest that riders be alert in using the brake to avoid accidently hitting on another person or crashing on a property.
Another advantage of using the E300 Razor scooter is its very quiet motor. Riders will notice that the scooter is very quiet when driving, to the point that it won't distract the neighborhood when it cruises down the street.
And because the scooter can zoom up to 15 miles per hour, users will be impressed by its speed. Many reviewers on Amazon.com say they were in awe of the speed of this scooter. The scooter can also maintain its top speed as long as the riders remain well under 200 pounds in weight. Other Amazon reviewers say that the scooter can keep its performance as long as the tires are properly inflated.
And because it is made by a respected company like Razor, many owners of this scooter say they are satisfied with the way the ride was constructed. Most of them say the scooter is well-built and made from high quality materials.
Cons of the E300
There are some owners of this scooter who wish that it can charge in a shorter time. While the scooter can be fully charged in a matter of eight hours, some of those who have used it say this could have been a few hours shorter.
The other downside to owning this scooter is its weight. At around 40 to 45 pounds, the Razor electric scooter E300 is quite heavy for some riders. It can pose some problems for its owners especially when being carried by another vehicle like a bus or sedan.
Conclusion
Both the Razor E300 electric scooter and electric scooter with seat are well-rated products from Razor. These scooters are highly-recommended for older teenagers and even adults who want to have a simple, fast, reliable and energy efficient mode of transportation.