The Razor Rip Rider has been generating a lot of buzz online, and many of the reviews have been very positive so far. Now Razor has always been a name linked with innovation, and many people seem to have embraced this product as well. I personally like the 360, but what works for me may not do for you. If you're still not sure if the Rip Rider 360 is right, this review can help you make an informed decision.
Product Specifications
Weight: 15 lbs.
Dimensions When Assembled: 38" x 24" x 24"
Components: seat, 75 mm rear caster wheels, front wheel, lock nut, steering bolt, front cover, front fork, handlebar grip
Maximum weight: 160 lbs.
Age: 5 and up
Features
The Razor 360 has several features that set it apart from the other trikes available today. For starters it has dual inclined casters that allow for spinning and drifting without any resistance. This makes the Razor Rip Rider 360 much easier to ride compared to other trikes.
Another interesting feature is the new free wheel system built in. This mechanism, which I was only able to find on Razor trikes, allows for superior coasting speeds without the jerky motion that I've seen in other rides. For this feature alone the 360 is worth a good look.
Another nice thing I noticed is the front tire design, as it is high impact and very sturdy. The double crown fork design moreover, provides the Rip Rider with balance and strength, very nice. A close look at the trike also reveals that the fork and frame are welded steel, an important feature as it ensures stability and durability. I also want to mention the MX style handlebar with rubberized grips is properly implemented. Finally, the trike comes with a six month warranty.
Pros of the Rider 360
There are a lot of positive things I can say about the 360, beginning with its design. The dual canisters work as advertised, as the spins and drifts are very smooth. As many reviewers have noted, coasting is a lot of fun thanks to the free wheel design, and it is definitely built to last. I've looked over the construction design and I can say that the Razor Riprider 360 caster tricycle is much stronger than others like it in the market.
I also want to say that the claimed 160 lb. weight limit is very true. This trike is designed primarily for kids, but with a 160 lb. weight capacity, women and young adults can use it too. I also like the overall design and the way the trike responds to your handling. Probably the most important thing is that based on reviews, kids love the trike and find it very easy to use.
The instruction manual for the Razor Rip Rider is detailed yet easy to follow. Some assembly is required, but the manual makes the process a straightforward affair. It is fully illustrated, and there are safety guidelines included as well.
More than anything else I have to say that the Razor is very easy to learn. Making spins and turns is quite simple thanks to the design, but there's no danger of the unit turning over. Getting the trike to go straight up should take kids a few pass to get used to, but it's not a big deal. It might seem like the Razor is built to make spins and turns, but really there's no problem if your child wants to ride straight.
Cons of the Rider 360
There isn't much to complain about the 360, but I would have liked locks on the rear wheels, but it's not a big deal. Some users have also pointed out that the trike doesn't have any handbrakes. It doesn't, but that's not a problem since the trike skids easily. Other than those, there's not really a lot of drawbacks to mention.
What Customers Say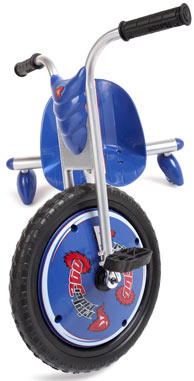 Based on reviews for the Razor Riprider 360 caster trike, it delivers in all departments, and it's gotten a lot of four and five star ratings in online reviews. One reviewer said the Razor has become a staple at birthday parties, and the reviewer noted its durability as well, with kids riding the trike for hours with no signs of wear and tear.
Another reviewer, said that the trike appeals to young and older children alike, and that both 4 and 7 year old kids enjoy it. The Razor Rip Rider is a lot of fun, and that it's very easy to put together, a sentiment that is echoed by other reviewers, as they're all in agreement that the trike is very suited for children five years and up.
I spent a lot of time reading these reviews and there seems to be a consensus that the Razor is as good as the manufacturer says it is. I have yet to read any complaints considering the assembly, and there are hardly any complaints about defects either. Given the fact that a lot of the reviews are positive, it's easy to see why this has become a bestseller.
Conclusion
The Razor Riprider 360 ride-on costs around $85 to $90 (as of 09/06/2014 PST *), and I have to say that it's definitely a worthy investment. I had no problems putting the unit together thanks to the clear cut manual, and the construction is very solid. It sports a nice, appealing design and there are many safety features built in.
In short, this is a good trike for the kids. There are a lot of these available online, but the Razor is the only one that delivers in all the important departments. It's affordable, easy to assemble, and a lot of fun to ride. When you consider the fact there are more expensive trikes available, it only makes sense to give this a try.