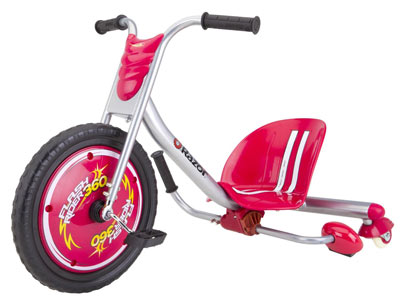 The Razor Flash Rider 360 is the updated version of the classic three-wheeler that was very popular during the 1970s and 1980s. But I want to emphasize that this isn't just a simple makeover, as the 360 uses modern design and technology and is based on Razor's proprietary caster tricycle design. Based on customer feedback, the Flash Rider 360 is one fun ride, but is it right for your kid? If you're not sure, this review will provide insights concerning its features.
Product Specifications
Dimensions: 24.5 by 25.75 by 40 inches (W x H x D)
Weight: 17.5 lbs.
Maximum rider weight: 160 lbs.
Designed for users six years old and above
Features
Since the Flash is based on Razor's award winning design, I expected a lot of innovative features and I wasn't disappointed. The Flash is compact and light, but it's very well designed. The dual inclined caster wheels provide smooth drifts and turns without any jerking, and the Spark Bar has the same cartridge you'd see on Spark scooters.
This kids tricycle also has a high impact front wheel, and the large size coupled with the flat free tire gives the rider complete control. It's also this feature that makes the Flash easy to pedal. After checking out the inclined caster wheels on the back, I can say that it goes a long way towards removing resistance in spins and drifts.
Style wise, the tricycle isn't lacking either thanks to the MX style handlebars and the steel frame, which make the Razor 360 Flash Rider look compelling. As far as safety features go the Flash comes with rubber grips and an adjustable handbrake. These are two of the most important features on the 360, as they provide grip and support for your child. Finally, the Razor has a nice double crown fork that provides durability and stability, essential when kids start riding on it regularly.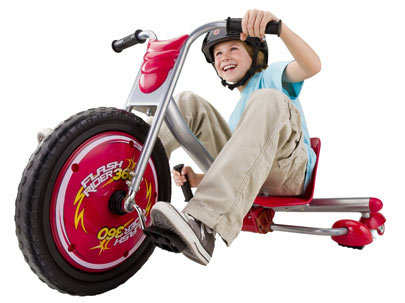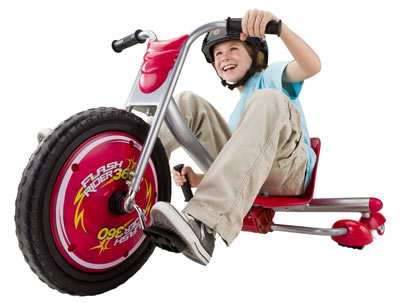 Pros of the Flash 360
There are many reasons why the Flash 360 has received a lot of positive feedback. For one thing the tricycle was definitely built with safety in mind. The welded fork and frame ensures this tricycle for kids won't break down while in use, and the rubber grips fit kids' hands perfectly.
Some assembly is needed here, but it's not a problem as the instruction manual is pretty clear. In addition, the handling is very good and shouldn't give kids any problems. I've seen and reviewed many tricycles before, and I have to say that in terms of design, usability and durability, the Flash is one of the best I've seen.
Aside from the build, the Flash makes it easy for kids to turn and spin, and of course many reviews have been positive, which is always a plus. I also want to point out that due to the way the trike is designed, the rider will sit low. What this means is there's no danger of your kid falling off and hurting himself during a turn.
That's a very important safety feature, because one of the problems I noticed with other trikes is they don't have a lot of safety features built in. The 360 is different, and even if you have a host of these trikes turning and spinning around like bumper cars, there's no danger to the riders.
The assembly, as many have pointed out, is very straightforward. If you have put together other Razor trikes before you'll have no problems with this one. And even if you haven't, the user guide is very clear. But more than that, the parts and components are top notch. I examined the wheels, the frame and the other components, and they're all solid and durable.
Cons of the Flash 360
This Razor tricycle is one of the most well rounded trikes I've come across, and there isn't a lot to complain about. Probably the only thing is that the manual could have been written a little better or had more illustrations. But that's not really a big concern because you'll have no problems putting this together.
What Customers Say
Of course it's very easy for Razor to say this or that, but it's a different matter if the reviews are just as positive. Fortunately most of the feedback is good, with many praising its design, reliability and quality. Many customer reviews agree that the trike is well made, easy to assemble, comfortable and very safe, a sentiment shared by many parents.
After reading all of these reviews, one can't help but note that the Razor 360 trike has definitely been well received. The positive reviews greatly outnumber the negative ones, and there's agreement that it is durable and well suited for children.
Conclusion
I've reviewed a lot of trikes for kids, so I can compare the Flash with other models, and it holds up very well. Usually those trikes lack something, be it poor handling, inferior design or lack of safety features. That's not an issue with the Flash since the manufacturer clearly put a lot of thought into the design.
After reading the Razor Flash Rider 360 reviews and checking it out myself, I have to say that this is as good a trike to get your kid as any and is definitely worth every cent. It's stylish and appealing to kids, and parents will be happy with the safety features and durability.