The scooter is no longer considered a luxury for most kids. In fact, even parents see them as a practical way for their children to get around outside. Scooters afford children a cheap mode of transportation, one that they can use for a short commute to the neighborhood convenience store or simply going around the neighborhood. It helps that most scooters are safe and easy to use, thus parents don't think twice about getting one for their kids.
The Razor Powerwing is one scooter that is designed for children who are not big enough to ride large scooters. It has three wheels and a Y-shape frame that ensure good stability for children riding it.  And this scooter has a front wheel where the hand brake is applied to. Overall, this three wheel scooter is perfect for kids who are at least five years of age.
Features
The Razor Powerwing caster scooter is a fun trick scooter that comes with two rear caster wheels. The caster wheels push the scooter with the rider performing a simple twist of the feet. The scooter is best for performing simple tricks like spin-outs, side drifts, and kick-outs.  It is made of durable steel frame and measures 30 inches in length, 22 inches in width, and 31.5 inches in height.
Pros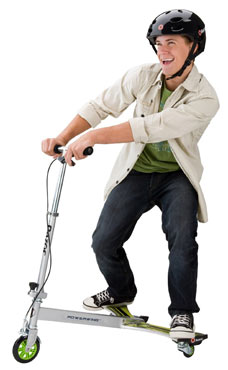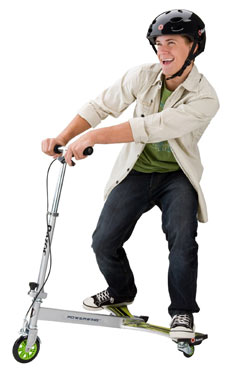 The most glaring advantage of using this scooter is that kids will enjoy a good amount of balance thanks to the Y-shaped deck of this three-wheel scooter.  The powerwing scooter dramatically changes the scooter design with its unique Y-shaped frame built on three wheels instead of the traditional two.  The innovative design of this scooter not only enhances its safety feature but also its looks.
With a three-wheel set-up instead of the traditional two, the Razor powerwing scooter provides a lot of stability to its rider. Thus children aged five or older, or any kid who has never used a scooter before for that matter, will find riding this scooter easy.  This also appeals to parents because they can be assured that there will be fewer scrapes, bruises, and bumps that their children will encounter thanks to the added balance that the three-wheel design gives.
The wheels are also expertly crafted by Razor so that the scooter can give a perfect coasting experience to its riders especially over smooth surfaces. The wheels are also sturdy enough to last a long while, so parents won't have to constantly order for replacement wheels or bring the scooter to the nearest repair shop.
The Powerwing is also compact and lightweight enough to be stored on the trunk of a car. Its maximum weight limit is around 145 pounds, which is enough for children who are at least five years of age. Older children may not be interested in using this scooter, especially if they have been using one for years. Thus the weight limit is just right for the target users of this Razor 3-wheel scooter.
This scooter is also very easy to maneuver thanks to its dual inclined casters. With this scooter, children can easily turn, drift , and zoom without the need to push. This is another advantage of the scooter that makes it appealing to children and parents alike.
Safety of the riders is guarded as Razor has integrated a hand brake on this scooter. This feature should help riders to conveniently put a stop to the scooter whenever they need to. There are also safety pads located on the rear that prevents the rider from flipping over.
Finally, the fact that this scooter is made by Razor should be considered as a positive as well. Razor is one of the most trusted brands when it comes to scooter design, manufacture, and trade. The company has been around for more than a decade, and its scooters are highly-rated for their design and safety features.
The first Razor scooter launched in 2000 was such a huge hit that that company sold more than five million units in just six months. Razor's first scooter was also named the toy of the year in 2001. Since then Razor has also been involved in the production of electric scooters. Many children, teenagers, and adults trust the name Razor, so parents and children looking for a well-built scooter should find any Razor scooter a good deal.

Cons
But this is not to say that the Razor Powerwing scooter does not have any negative points.
One of the most common gripe about this three-wheel scooter is the lack of adjustable handlebars. Scooters with adjustable handlebars can 'grow' with their users, but the lack of one in Powerwing suggests that Razor does not intend this model to last with their riders for years. In effect, the Powerwing is really intended for children who are just learning how to ride a scooter and as a ride to prepare them for other more advanced scooters.
The deck where the rider places his feet is made of plastic. This may be a big issue to some parents as they would feel that the 'wings' won't last long especially if the child using it is quite big for his age. The caster wheels are also a bit tiny, so there is a tendency for the rider to feel the bumps on the street and sidewalks quite fiercely.
Some children may also find the Razor a bit slow for their taste. The Razor may be deemed as a scooter that is built basically for straight sailing, so children who want a faster ride may be disappointed with this model.
Conclusion
The Razor Powerwing is a scooter that any parent would love to give to their young children because it is designed to provide a fun riding experience to its riders. This scooter's three wheel design gives a lot of stability to riders, thus making it an ideal scooter to young children. There is no denying that this scooter is great ride for young riders.