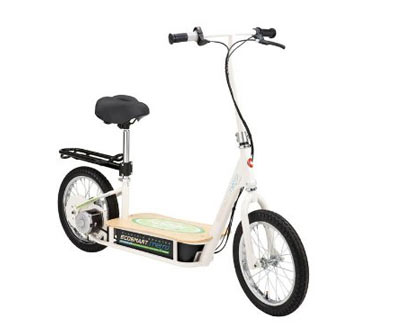 The Razor Ecosmart Metro is an electric scooter that is targeted towards adults who want a cheap mode of transportation. It is an ideal vehicle for a short trip around the neighborhood store, or for a quick commute. It is powered by a 500-watt motor which allows it to run up to a maximum speed of 20 miles per hour. Even better, this scooter has a multiple speed throttle control that enables its riders to be in charge of the scooter.
Razor has been producing electric scooters since the turn of the millennium, and the Ecosmart Metro may just be its best product yet. This electric Razor scooter should be enough to whet the appetite of riders who want a faster mode of transportation than a typical scooter. It also provides them an alternative vehicle, one that won't emit carbon dioxide to the environment. Perhaps best of all, this electric scooter would let its users save a substantial amount because they don't need to pay for gas.
Razor is well-known among athletes, teenagers, and adults who love extreme sports like snowboarding, motorcross and biking. The company based in Cerritos, California first came up with a scooter in 2000, which sold more than five million units in less than a year. Three years later, it produced its first ever electric scooter. Since then, the company has been making electric scooters tailored for children, teenagers, and even adults like the Razor Ecosmart Metro.
Features
The Razor Ecosmart has the following features:
Ultra padded seat for the ultimate in riding comfort
Rear disc braking system to minimize the risks of accidents
Handlebar rake and seat that are fully adjustable for convenient riding
Luggage rack that is detachable
A stylish, powder-coated frame for good looks
Variable speed hand throttle control, enabling users to decide the most appropriate speed in riding
Standard 16-inch pneumatic tube tires
High performance, high-torque 500watt motor
36 volt electrical power system
7 AH battery that can run up to 60 minutes when fully charged
Pros of the Razor Ecosmart Metro Electric Scooter
Razor electric scooters are known to be a cheap mode of transportation, and the Razor EcoSmart electric scooter is no exception. Since the scooter is powered by electricity, riders of the Ecosmart Metro won't have to pay for gasoline in order to use this scooter. This translates to a lot of savings on the part of the rider, especially during these times when gasoline prices are constantly on the rise.
Aside from the huge savings that this scooter affords to its users, the Razor Ecosmart is also environment friendly. The scooter won't need gas to be able to move up to speeds of 20 miles per hour. Because it does not use gasoline, it helps contribute to global efforts to reduce dependence on fossil-based fuels.
More importantly, the scooter won't be emitting carbon dioxide to the environment. Unlike other scooters and bikes that are notorious to emit gas to the atmosphere, this scooter has no emissions. This makes it the perfect ride for people who want to reduce and perhaps eliminate their carbon footprint.
Aside from being cheap and environment-friendly, this electric scooter is easy to use. With its variable speed hand throttle control that can be manipulated with a simple twist, riders should have no problem using this electric scooter. Razor also designed the EcoSmart Metro electric scooter with the convenience of the rider in mind as it added a well-cushioned seat to this scooter. Thus riders will be able to use this for longer commutes, like going to a neighborhood store or perhaps a short trip to the city.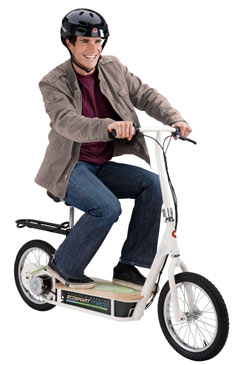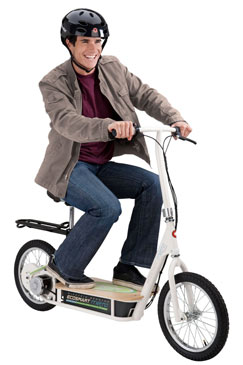 Riders will have their need for speed satisfied as the scooter can accelerate up to speeds of 20 miles per hour. This is one of the fastest electric scooters around, and Razor made sure that its speed won't be put to waste as it provided a 500 watt, high performance motor to this scooter. The motor enables the scooter to accelerate quickly, yet it is also quiet when operating so the scooter won't be bothering the entire neighborhood at all. And even when it speeds up to 20 miles an hour, the scooter can be stopped immediately due to the presence of a rear disc braking system.
This scooter is especially designed for adults, as seen by its maximum weight capacity of 220 pounds. The scooter has standard bicycle sized tires that are also easy to replace. There is a detachable luggage rack that can store various items.
This scooter can also run up to 60 minutes when fully charged. Speaking of charging time, the scooter can be fully charged in two to three hours.
Cons of the Razor Ecosmart Metro Electric Scooter
The Razor Ecosmart Metro Electric scooter will have some difficulty moving on steeper hills, as it could only accelerate up to 10 miles per hour on such type of terrain. Of course, the scenario is different on a flat terrain as the scooter can achieve its maximum speed of 20 miles per hour. When coasting on rolling terrain, the scooter can even hit 25 miles per hour although riders should be careful in accelerating at this pace.
The scooter weighs 67 pounds, which makes it one of the heaviest electric scooters around. The weight may seem to be a small issue to some riders. But for those who would like to put this scooter at the back of their cars for a quick trip to the park or to the countryside, the weight may be a bigger issue than it seems.
Conclusion
Still, the Razor Ecosmart is a scooter anyone would love to have. This electric scooter is a great gift for people who have had enough of driving a gas guzzling vehicle. Its stylish design is another reason why you'd want to have your hands on this scooter. This cheap and environment-friendly electric scooter makes for a good ride for a short commute.