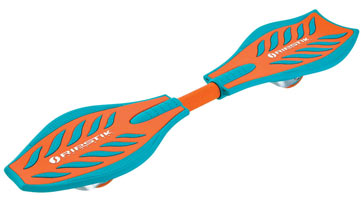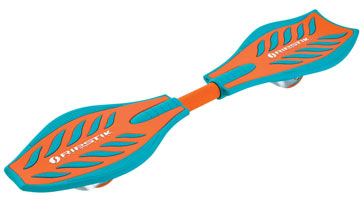 The Ripstik caster board has become very popular now, and to meet the demands of consumers and customers, Razor has come out with several models and boards so you can find one that suits your style. While Razor has manufactured a lot of boards, the following have proven to be the most popular.
Razor Ripstik Comparison Guide
AIR PRO
CLASSIC
RIPSTIK G
RIPSTER
RECOMMENDED AGE
8+
8+
8+
8+
WEIGHT LIMIT
220 lbs
220 lbs
220 lbs
175 lbs
COLORS
blue, red
blue, red, silver, pink
black
blue, red
WEIGHT
5.25 lbs
8 lbs
8 lbs
4.5 lbs
DIMENSIONS
32.5" x 8.5" x 4.5"
34" x 9" x 4.5"
34" x 9" x 4.5"
27" x 9" x 4.5"
BUILD
lightweight single piece fiber reinforced industrial grade polymer
high tech polymer
with removable
deck plate
high tech polymer
with removable
deck plate and
steel torsion bar
high tech polymer
with removable
deck plate and
steel torsion bar
WHEELS
high grade
urethane wheels
with ABEC-5 bearings
high grade
urethane wheels
high grade
urethane wheels
with ABEC-5 bearings
high grade
urethane wheels
with ABEC-5 bearings
CASTERS
self-centering
casters
inclined 360 degree caster trucks and
pivoting deck
inclined 360 degree caster trucks and
pivoting deck
inclined 360 degree
caster trucks
and pivoting deck
Razor Air Pro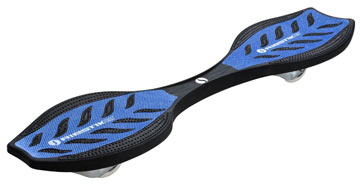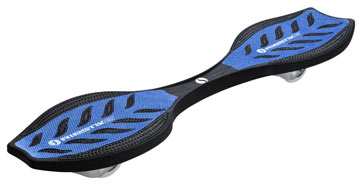 The Air Pro is a lightweight caster board, and since it's built from a single piece, you'll have an easier time performing tricks, flips and other maneuvers. One of the nice things about this caster board is that it is self-centering, ideal for solid landings, and it works like a surfboard on a dry surface. In addition, the Air Pro has 76 mm wheels fitted with superior ABEC-5 bearing casters.
Features and Benefits
Even if you've never used one before, the Air Pro shouldn't be too difficult to learn thanks to the DVD tutorial bundled in the box. What makes the Air Pro unique is that it's a hybrid of a snowboard and skateboard, so this Razor Ripstik is the answer if you're in search for new thrills.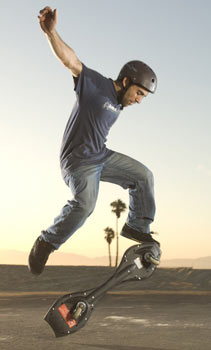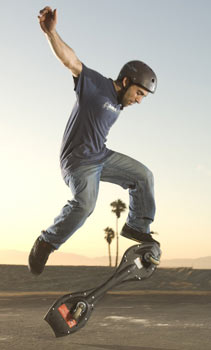 The feature set is pretty impressive with a self-centering caster spring, a ribbed structure and a well-designed pivoting neck made from a single piece. What all this means is that the Air Pro possesses the carving ability of a snowboard. In addition, the unique weight transfer allows you to accelerate and turn without making a push, kind of like when you're on slopes.
Another advantage offered by the Air Pro is its light weight, because a heavy caster board makes it harder to do flips. But there's more to the Air Pro than just the light weight as it also has a concave deck, a nose and kick tail and spiked action pads. Combined, these provide you with increased foot control, an absolute essential for performing tricks.
Finally, the Air Pro's 76 mm polyurethane wheels and bearing casters ensure a smooth ride regardless of the pavement. This caster board is made for riders at least 8 years old, and has a maximum weight support of 220 lbs. The Ripstik Air, in other words, works like a carving machine, and thanks to the way the board has been designed, landings won't be a problem. Furthermore, the Air Pro incorporates many of the elements in the original Ripstik so you can learn to turn, carve and cut easily. While it looks and feels stylish, it's definitely suited for kids and adults as well.
Aside from those features, the Air Pro deck has this sandpaper feel to it, which is good because it provides you with a good grip. And as many caster boarders will tell you, the spring loaded wheels work as advertised and do snap back.
Razor Classic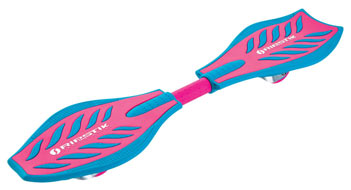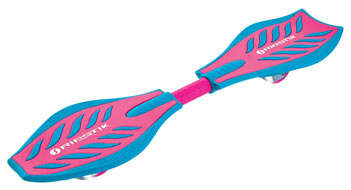 Despite the various caster boards that have appeared, many still prefer the Razor Classic, and it's easy to see why. This was after all, the groundbreaking board that combines the features of a snowboard and skateboard. Even though the manufacturer has since produced other boards, the Classic still stands out.
Features and Benefits
The Classic has several notable features, but the 360 degree caster and pivoting deck are definitely the most important as they allow for carving similar to a snowboard. The Classic also has the trademark concave design, nose and kick tail and the ABEC-5 bearing casters. Like the other Razor caster boards, the Classic is designed for children at least 8 years old and has a weight capacity of 220 lbs.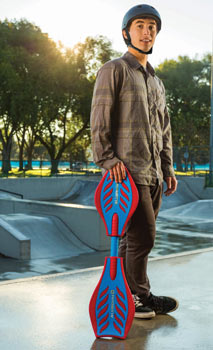 There are many reasons why the Classic has become a favorite among children and adults, but basically it's all about providing thrills. While there are several boards available, the Classic differs from the rest because of the 360 degree caster trucks and the pivoting deck.
Another notable feature of the Classic is the twisting motion, because it moves the rider forward without any push from the ground. In addition, the Classic's design go a long way towards improving your foot control. Designed for riders 8 and above, the Razor Classic also has superior bearings, quality torsion bar, rubber padded handle and kick tail and nose.
At first glance the Classic might seem like it's meant exclusively for kids, and those who aren't familiar with these products tend to reach similar conclusions. But that's not the case, as even adults will get a hang of it. Unlike other skateboards, the Razor Classic is easy to pick up even if you've never tried anything like it before.
Just like the Ripstik Ripster, the Razor Classic should present no problems for anyone's who even mildly athletic and has sufficient balance and coordination. Even though other caster boards have appeared, it still works well. For anyone who's looking to learn new tricks, the Classic will do just fine. Unlike other caster boards, the Classic has a unique independent steering mechanism for the front and back wheels, adding another level of excitement to boarding.
The bottom line is that compared to skateboards, the Razor Classic is more maneuverable and has a lower learning curve. Unlike regular skateboards, the Razor Classic is safer because they flop on the sides rather than shoot out from under the rider.
Razor RipStik G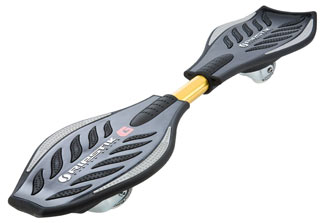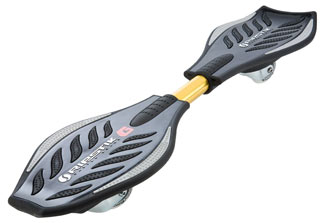 The Razor G takes the caster board to the next level. Compared to other caster boards in the market, the G has a specially designed spinning aluminum G-Tube so you can have very smooth grinds, be it on the pavement or rails.
Features and Benefits
The Razor G has superior twist and go action, and the aluminum center tub is aircraft grade, making it superior to other available caster boards. Just like the other Razor caster boards reviewed here, the G has 360 degree caster trucks and a pivoting deck for carving, as well as concave design.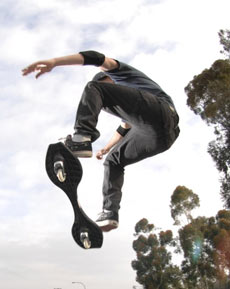 The highlight here though is definitely the spinning aircraft-grade aluminum "G" tube. It is this feature that provides it with grinding action. Just like the classic Razor, the G will propel you forward using a simple weight transfer mechanism that allows turns without any pushing involved.
Because the aluminum tube is aircraft grade, it is more than ready for grinding. When combined with the kick tail, nose and spiked traction pads, the rider gets the support necessary to perform tricks on the board. Just like the Ripstik Air Pro, the G is equipped with ABEC-5 bearing casters and 76 mm polyurethane wheels which ensure a smooth ride regardless of the pavement you choose.
The metal torsion beam and end platforms allow the G to support up to 220 pounds. Apart from its durability, style and design, the reason why the G has become so popular is that it makes grinding easy. Ask anyone who's tried going on a rail before and they'll tell you that it all comes down to the quality of the board being used.
Because the G is so versatile, it's become a lot of fun to ride, and like the Razor Ripstik Ripster can be addictive. What makes the G attractive to a lot of people is it allows for very smooth rides without sacrificing durability. Furthermore, the G isn't just better for grinding than other caster boards, but it is also faster.
In spite of its versatility and power, the G doesn't compromise in the ease of use department and kids as young as 9 years old will get the hang of it quickly. Just like the other Ripstiks this caster board incorporates state of the art technology with innovative design so riders, children or adults, can experience thrills like never before.
Razor Ripster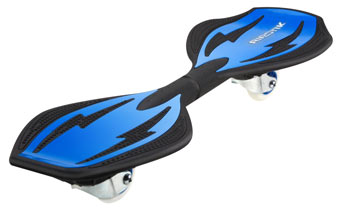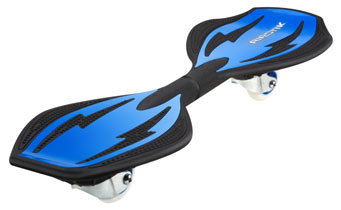 This caster board looks similar to the Classic, but on closer inspection you will see that it is a bit shorter. Compared to the 34 inch Classic, the compact Razor Ripster is 27.5 inches long. An in-depth look will also show there other significant differences, but that doesn't make it any less fun to ride.
Features and Benefits
As a compact caster board, the Ripster sports 66 mm urethane wheels instead of the regular 76 mm, but it still has the same ABEC-5 bearings. Regardless of the changes in the specs, the Razor is still sharp and perfect for the skate park or the pavement. While this is a lighter version of the original Razor Ripstik caster board, you can still do tricks and flips here. In fact you can probably do more since it's lighter.
The Ripster still has Razor's pivoting deck and inclined caster trucks, allowing you to carve like a snowboard. Despite its compact size, the design makes it easy for the rider –child or adult- to turn and speed up without too much effort. And just like the other models reviewed here, the Ripster has a concave deck so you have complete control.
As the information above indicates, these caster boards are designed for adults and children. However, this compact caster board is more suited than most because of its size and design. At the same time, the light weight makes it appealing to longtime boarders who have a difficult time performing tricks with a heavy caster board.
While the Ripster is compact, it still has the features of the other caster boards, so even kids will have an easy time figuring it out. Based on the feedback from people who bought it, this compact version of the Ripstik Classic is just as easy to get used to as other caster boards, if not more so. Unlike other caster boards, the Razor is very flexible.
One of the problems with other compact caster boards is that the reduced dimensions comes with a price, lack of maneuverability. Fortunately that isn't the case here as there's no compromise on the style.
Which Caster Board is the Best?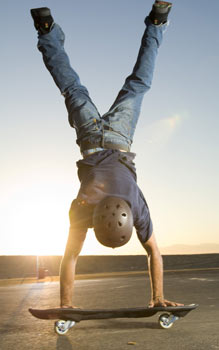 All of these caster boards have special features, so there is no "best" caster board among the four reviewed here. Rather, the most appropriate one will depend on your skill level. If you're a beginner for instance, you're better off with the Air Pro as it has very good grip. And if you have a narrow stance, the Air Pro will suffice. All of these caster boards are ideal for children and adults, but for the absolute beginner, the Air Pro or the Razor Ripster are recommended.
The Ripstik G caster board is ideal if you like to grind. It's also longer than the Air Pro so it's ideal if you have a wide stance. It should be noted that the G is heavier than the Air Pro, which makes it more stable but will require more effort for jumps. If you've been using caster boards for a long time, the weight disparity won't make much of a difference. But if you're new, it's something you have to consider.
If you're a longtime caster boarder, your choice will come down to two factors: speed and control. If you're the type who prefers control and precision when going through obstacles, the G is recommended. If you are after speed then the Air Pro or the compact Ripster will be a better choice.
Many people have also been comparing the Air Pro and the Classic, with some opting for the Classic and others the Air Pro. Again, the choice is up to you, and you really can't go wrong with either one. However, some new caster board users prefer the Air Pro because it puts less strain on your legs, allowing for longer rides.
On the other hand, the Classic and the ripstik Ripster are easy to use and don't demand too much from the rider in terms of balance and coordination. As you can see, it all boils down to your personal choice. For this reason, you need to consider your skill level and goals.
Of course there is nothing to stop you from purchasing all four caster boards. New riders need only one, but once you gain experience you may consider using different models.